It all started back in 2014, when Google launched Cardboard as a way for people to experience the world of VR through their smartphones. A year later, Samsung got on board with their Gear VR, and before we knew it Google was back with the Daydream View just last year. And it's not just the big names who are getting involved. Even a quick search for "mobile VR headset" reveals dozens of options. Homido VR, Mattel View Master, Zeiss VR One… the list goes on and on. There's no avoiding it: we've well and truly entered the era of mobile VR.
That said, the title of this article was chosen for a reason. The potential power of mobile VR to bring virtual reality to the masses is undeniable. However, at this early stage of its development, there's still a long way to go. Our struggle through compromise after compromise to create the Terri Scheer experience in mobile VR stands testament to this. Yet while working at the limits of what a technology is capable of is often a frustrating endeavour, it's this kind of work that will be integral to defining what the medium is able to become.
Some background on the Terri Scheer project
TL;DR – We designed a mobile VR experience that put users inside a virtual apartment to experience common tenant damage first hand.
Our own latest foray into the world of mobile VR came when we worked with leading landlord insurance specialist Terri Scheer. Like many insurance providers, the team at Terri Scheer have found that selling insurance is often an uphill battle. People want to protect themselves, but they're wary of investing in some future possibility that isn't even guaranteed. The market is there, but it needs a little convincing.
This is where we came in.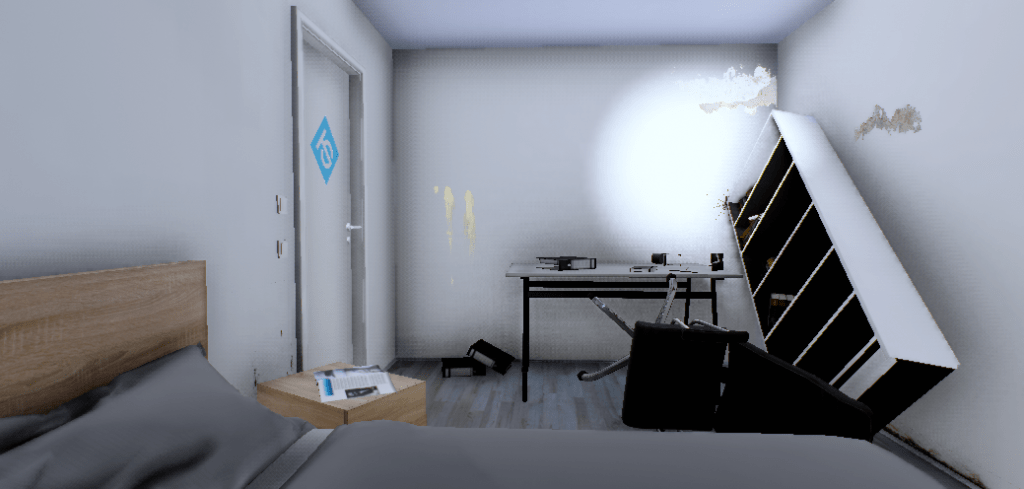 The task was to design an experience that would bring home the reality of being uninsured to property investors. To do this, we created a virtual reality experience that places investors in the middle of landlord hell – surrounded by fires, floods and other tenant damage – to emphasise the importance of protecting their properties. However, this experience also needed to function as a conversation starter for the company's sales personnel. This meant it couldn't be a straightforward implementation of VR. It had to be portable, compact, and easy to use. In short, it had to be mobile.
So we set about creating a virtual reality experience that could deliver the immersive advantages of the medium anywhere. We designed and developed a realistic apartment on the Samsung S7 and Gear VR where the real possibilities of tenant damage confront investors in every room. Immersed in the VR experience, users feel the effects of these scenarios first hand, in real time. And when they emerge, they have a profound personal understanding of what not having landlord insurance could mean for them.
Overcoming the challenges
TL;DR – Simplicity can improve user experience, rendering transparency is difficult but not impossible, and 60fps alone can't eliminate motion sickness.
Creating mobile VR poses some significant challenges for designers and developers – most of which arise from the hardware limitations of small, portable devices. We created the Terri Scheer experience for a Samsung S7, which is undoubtedly a top-of-the-line smartphone. Yet its processing power pales in comparison to that of the PCs powering the HTC and Oculus platforms. As such, the environments and effects created for the project had to be limited and optimised in order to run smoothly on the Gear VR platform.
Designing and developing a realistic apartment within these constraints was a particularly frustrating and informative experience. Aesthetic sacrifices had to be made in constructing an environment that could be rendered comfortably on the S7. To limit the amount of physical space to be rendered, we designed the apartment as separate rooms. Working within these limitations, we developed a navigational logic such that users simply look at doors in order to move between rooms. While this frustrated our desire to create a realistic experience, it provided a logical way for users to move around the space.
Rendering the elemental effects of fire and water – two aspects crucial to the brief of conveying common tenant damage of flames and flooding – also proved to be significant challenge. Translucent objects are incredibly hard to render on mobile phones where refraction effects (which make transparency appear realistic) are impossible. As such, many of our early experiments in trying to create these elements resulted in flat and artificial imitations. Eventually, we were able to achieve results we were happy with by layering different effects – creating flood water with simple masks moving radially, for example.
Through Pygmalion's Spectacles: The future of mobile VR
TL;DR – Headset design is set to become more intuitive, more efficient APIs will allow for better rendering, and processing power will continue to increase.
The possibilities of mobile VR represent an exciting opportunity for the medium as a whole to expand its horizons. New hardware options, designed for mobile VR, are beginning to present us with a viable way forward. The simple inclusion of motion controllers in Google's Daydream View headset, for example, demonstrates how important well-designed hardware is to the VR experience. By avoiding the ray-tracing method of interaction, these small controllers, trackable by the headset itself, enable more diverse and intuitive gameplay.
The introduction of Vulkan, a new API designed to enable more efficient use of mobile resources, also represents a promising step forward. Adoption of this and similar APIs into the future will allow for more diverse and realistic rendering, without diminished performance. The ever increasing processing power of smartphones today also aids in this move towards more satisfying environments, as tools like OpenGL 3 become an option. What's most exciting about these developments, however, is the rapidity with which they are appearing. The Samsung S7, released just 5 months before the Pixel, remains limited to OpenGL 2 and below. With such a short turnaround for development, even greater advancements may be just around the corner.
Exciting as all this is, the technology is not yet fully implementable. We're still struggling with ways of making our dreams for virtual reality match up with the technology at hand. Nonetheless, future improvements will undoubtedly lead to the creation of more immersive experiences in these compact, transportable systems. In the meantime, we'll continue chip away at the limits of the technology. After all, the start of something is always the most exciting part.