Introducing Emily
At S1T2, our work introduces us to interesting people that we get to collaborate with. It's been great learning from them and also getting to know them. But the best part is working creatively together. In this series, we talk to some of the interesting artists we've had the pleasure of collaborating with.
Musical compositions are an oft-forgotten art that plays a significant role during storytelling. Without the right composition, audiences can feel disconnected from the intended message. With it, the tone, mood and emotions are amplified through a beautiful crescendo of visuals and sound.
In this creative collaborator session, we discover how a chance encounter with the Beyond the Stars team led to the start of a symbiotic collaboration between Emily and S1T2. The end result is a magical piece used in the Draw the Line TVC for UNICEF.
Can you start by telling us a bit about yourself?
My name is Emily Mirla Harrison and I am a screen music composer, operating mostly under the moniker Lincoln Sounds for Screen and Stage.
When did you first starting working with S1T2?
An opportunity arose in early 2018 to work in game sound design for S1T2's project Beyond the Stars. At the time I wanted to gain more experience in the sound design arena and became intrigued by their approach to tackling global issues. This led to an opportunity to work on another project 'Mission Dust Storm' an interactive, immersive experience for the Invictus Games 2018. It was over lunch one day that I had the opportunity to meet and chat to S1T2 Director Tash Tan, he was in the final stages of his project Draw the Line and asked if I did any music composition. I told him that was my jam, sent him my work and then we met not long after to discuss the project.
Read the case study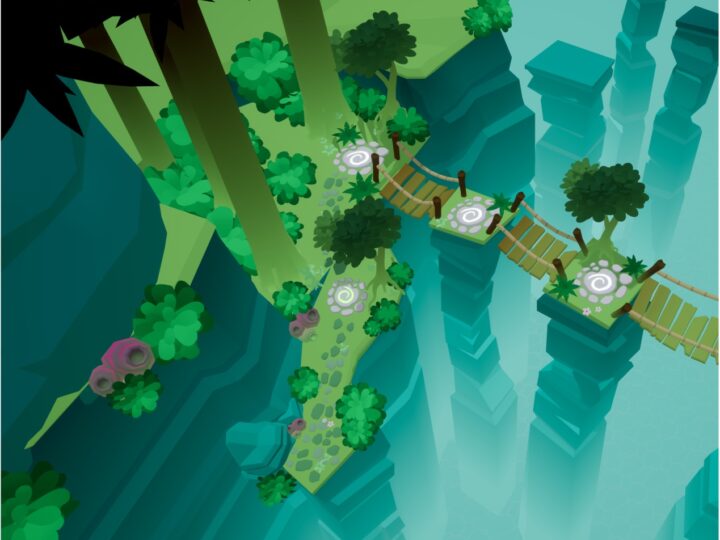 Beyond the Stars
A world-first health education program for the Pacific Islands.
What was your initial impression of Draw the Line?
It was love at first sight. It was beautiful and poetic. It was a piece of art with a powerful message. I knew instantly that I had to work on it. Not only was it in my wheelhouse in terms of genre but it also aligned with my value system. The perfect match.
What was the brief + what did you think of it?
I was impressed! It was clear that this project was incredibly special to Tash and he had dedicated a huge amount of work and passion to it. I received a high level 10 page brief that was well thought out, beautifully presented and incredibly informative. I was slightly nervous about delivering music that would do it justice! I felt fiercely inspired, motivated and excited.
It required the juxtaposition of nostalgia and innocence with a sense of foreboding. It was important to use silence to amplify emotions and accentuate dialogue. The music was to be used as a symbolic tool to emphasise the key themes and draw the important connections between events and subsequent outcomes. The use of repetition, dynamics and silence were important.
Tell us about your creative process.
I watch the edit through a couple of times first, read the brief and listened to reference tracks. I start noodling around on the piano to the picture to see if any particular key felt right, and then I choose an instrument/soundscape palette. From there, definite themes started to evolve.
Quite often I will hit record and just play along with the full length of the film and react with instinct and intuition to moments within the film. I then mark out the moments/cues more methodically and once it is broken down, I work on the various cues one at a time. I try and make things sound as complete and polished as they possibly can along the way in terms of dynamics and automation as this helps the director get the full feeling of it and makes the editing and mixing process easier later.
What have you found are some of the best ways to collaborate with other creatives?
I very much enjoy a very interactive collaborative approach. I enjoy a detailed brief, extensive feedback with good descriptive, evocative language. I don't love temp music to be honest but I like to hear a reference track. 
I like the relationship to be a two way street and I think trust in the composer from the director is incredibly important. Hearing or seeing the emotional response from the director is really special. When they react in an emotional way to something they have seen thousands of times and know so well – that is special and should never be suppressed. That's when you know what you are doing is right. 
Tash came into the studio a couple of times and I composed some cues (nervously) in front of him. He was able to tell me on the spot what was working and what wasn't. It was more visual for him as he could literally see the notes on the screen that he did or didn't like. Some of the chords that you hear at the end were built this way.
Did you learn anything from this project or process in particular?
Always trust your instinct and always, always use a live recorded cello where possible. I had the music mixed, mastered and delivered but I kept listening to it and the cello was really bugging me. It was a sample instrument and although very realistic it was highly irritating. I felt it when we were mixing but I ignored my gut. It was keeping me awake! So literally at the final hour I got a cellist to quickly record the cello line, begged my mixer Sean to let me come in and remix the cello and re-delivered the music. I'm so, so glad I did this. I learnt a big lesson.
How would you describe the final musical composition that ended up in the film?
It is fragile and vulnerable, warm and nostalgic. The textured strings add a visceral quality, the piano warm, playful and evocative. It has a devastating beauty to it but ends with a sense of empowerment and hope.
"Draw the Line OST" by Emily Mirla Harrison.
What can we look forward to from Emily Mirla Harrison in the future?
I wish for more projects like Draw the Line! I want to continue to work on projects that foster change and have a positive social impact. My goal is to keep working with creatives that have the same integrity and vision as me and be able to contribute pieces of beauty and art.
I just received a funding grant to work on my own production Queen of Cards which is a meditation on female yearning, hope, endurance and strength inspired by a chapter in the Book "Arthur's War" which is a biography written about my Pop's ordeal as a Japanese POW.
Through a female lens Queen of Cards will highlight an important, unsung message from women of this era – their stoicism, patience and quiet passion in the face of adversity and vulnerability; their capacity for hope, calm and endurance. This will be a labour of love and I can't wait to start work on it. 
Interested in Draw the Line? Make sure to subscribe below to get updates about this and all the other projects here at S1T2.