At S1T2, our work introduces us to interesting people that we get to collaborate with.
It's been great learning from them and also getting to know them. But the best part is working creatively together. In this series, we talk to some of the interesting artists we've had the pleasure of collaborating with.
What's the nature of your work?
I'm currently doing a Master of Fine Arts in COFA (The University of New South Wales College of Fine Arts). Working on the themes of utopia and I'm very interested in unconscious desires and things like that. I work with sculpture, and I then pull it into photography.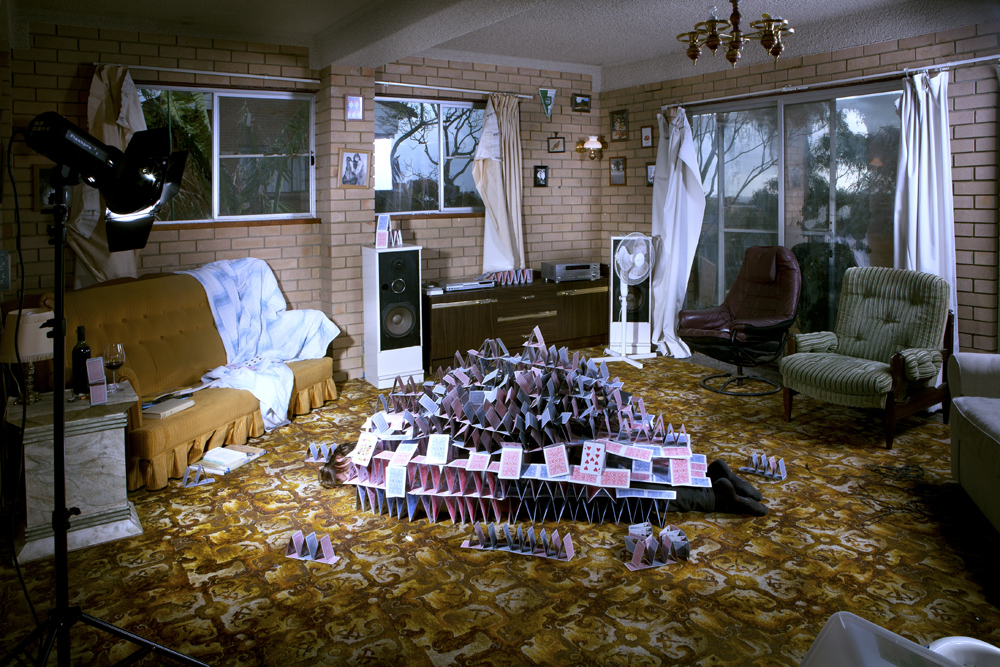 Basically in my last series of work, I was occupying people's homes, displacing them for a little bit. Then constructing these monuments out of domestic objects as well as found items which I collect in my studio. Building these temples, a bit like Close Encounters of the Third Kind, where the father builds this gigantic mountain out of mashed potato, and he's obsessed with this kind of vision. I guess my practice embodies that kind of experience.
But for a long time, I've been experimenting with technology, I've always played with a lot of hobbyist and quick solution engineering tools like arduinos. Also, other interface devices to make big light sculptures and looking at data visualisation. Lately, it's been looking at how I can incorporate virtual reality into experiences that don't really fit into gaming, more in a broader artistic pursuit.
The challenge with these emerging technologies is how to make something not gimmicky, because everyone is already impressed with virtual reality. It's very hard to make something not about virtual reality but uses virtual reality.
What was your journey to becoming a visual artist?
Anecdotally, I was doing software development, and at the time, I was also making art as a hobbyist. I was working for this financial company learning about tax. And I was like, bugger this, I'm going to clown school in New Zealand to escape that. But that was a bit silly, so I went to art school to boost basic conceptual skills and get off the bloody computer. Which is funny because my art practice has led me back there. But yeah, it was always natural for me.
When I enrolled into COFA, I didn't know I wanted to do photography. It wasn't until I lived in Weimar in Germany that I realised that. I was working with some pretty amazing people over there, and I saw the landscapes in Eastern Germany.
We also did a show in an old meat locker that had housed all these soldiers during troubling times of war. I did a show there and started photographing it,  I had limited resources so I only had a few lights.I kinda created a visual style that I took from it, and I'm still pushing today. I was watching a lot of David Lynch films at the time and it just kinda all came together.
What's the coolest project that you've worked on?
I can only think about recently, yeah, at the moment I'm working on a video game, it hasn't got a title yet, but at the moment it has a working title, but it's something really bad like Space Ark. But it's really rewarding because I'm working with really close friends who are all very skilled. It's sort of a project done out of passion and it's fantastic not to have pressures.
It's a science fiction kind of horror game. Well, hopefully, it's a PC only game. When we got together as game developers, and we knew it was a hobby project, we knew it wasn't going to be something for mobile. We were going to make a dream project for us, we're not looking at it as a commercial thing.
Also any project with virtual reality, the Tibrogargan project that I worked at with S1T2 was great to get to work with other people.
Actually, another one of my favourite projects that's worth mentioning because it's just closed down is Archive Gallery Space in Newtown. I've been on the board for a while, it was just really exciting working on an artist-run initiative that I felt was making a good impact helping the community and emerging artists.
The gallery would do a run of applications once a year, then we'd get a lot of proposals, then we'd have to go through a huge process of going through each and every one of them and creating a program. A lot of those applications might be from career curators who would go and take over the space to work with us.
What are some of the programs that you use?
I work a lot with Photoshop, Unreal Engine, Visual Studios, Unity.
How did you start working with S1T2?
As a freelancer, Steve was drinking with Naimul at his place. And Steve showed him our game that we've been working on, and he said that's great. You should come in and say hi to the team. It was all organic. Then all of a sudden I was working on the virtual reality project.
How do you hone your creativity?
Through providing dedicated time and maybe staring at a wall. Maybe some Philip Glass in the background just to think, draw, and sketch out ideas. Or rely on sort of processing when you're asleep.
What are things that you're inspired by?
Science fiction primarily because it's caught up with the ideas of utopia, conflict in man, and all of those kind of things. And visually as well, I've always wanted to go to space.
I would say Stalker is a big influence, Spielberg's early stuff, Stanley Kubrick, Space Odyssey. As well as contemporary artists such as Jeff Wall, Gregory Crewdson, Adam Norton who's got a show on at UTS. He's a contemporary artist working out of Sydney who's pretty interesting.
Name us some of your favourite blogs + websites.
Just so many. I spend a lot of time at the moment interacting with the Unreal Engine Community which has been rewarding to see all these other people who are generally indies who are communicating, all contributing to Unreal's open source. Everyone is picking things apart and adding it together.
It's a relatively new community for Unreal Engine 4, and it's a great community. I'm spending time there and helping where I can and providing tools for people.
What's next for you?
I hope to finish my masters and have a strong body of work. I've got to build some forts out of all sorts of materials at a gigantic scale and I'm working with a film crew with that. And then hopefully maybe move to Mexico and finish this game.
Mexico is a good city to work in, I've lived there before in Guadalajara, it's close to my heart. I've ran an artist run initiative there called Variety Space and it's just a great space to put your head down and work. There's a lot of creative talented people in that city. The best city to just go down and work my ass off, eat a lot of tacos and drink far too much.