S

e

n

s

o

r

t

e

c

h

n

o

l

o

g

y

i

n

e

x

p

e

r

i

e

n

t

i

a

l

m

a

r

k

e

t

i

n

g
My Kitchen Rules is back on the box, and after it's multiple seasons, teams still manage to look dumbfounded at the camera with more fondue on their face than on the plate saying:
"Gee we've never had to cook for 12."
It just goes to show how you can't learn from other's mistakes, either that, or you've mistakenly believed you're comfortable enough with failure to proactively invite it to dinner. To really learn your lesson, it looks like you need to fail at least once, to feel the heat and pressure of looking incompetent, and clueless with no rescue in sight.
As a creative technology agency, "cooking for 12" often translates to deploying new technologies in new environments. The untamed wild whose location and nature are rarely known until it's go time.
Learning from our own mistakes has taught us to respect the unpredictable wild, in particular, RA – the all powerful sun god. As a species, we marvel at how we're wonderfully woeful at predicting the weather. And yet, chances are we're equally poor at anticipating how a new environment will affect digital technologies until you're in the situation.
Although I've already admitted you'll learn these lessons yourself, the true lesson behind it is the environment test, do it as much and as often as you can, in the real environment. Below is a short list of learnings from using 6 sensor technologies in various environments over the last few years:
1. Ultrasonic sensors
Application: RAY, Vivid Lights and Sounds Festival 2014.
Pros: These are actually your best defence against the sinister sun. Because they work from ultrasonic sound waves at a specific frequency, they're also great for measuring distance.
Cons: The biggest con with this tech is that they're difficult if you're covering a large area. If you use these in an array, ie. one next to the each other, their signals will interfere with each other. You can sync their pulses to different intervals, but depending on what you are trying to measure you won't have a constant reliable sensor field.
2. Camera vision
Application: Visa PayWave, Melbourne Cricket Ground.
Pros:  There's a lot more information available for reading.
Cons: Hard to find cheap cameras, it also requires extensive programming, and most importantly, using doors can be susceptible to variations in ambient light. Ie, If you're planning to use it to key into an environment, forget it.
3. 2D lasers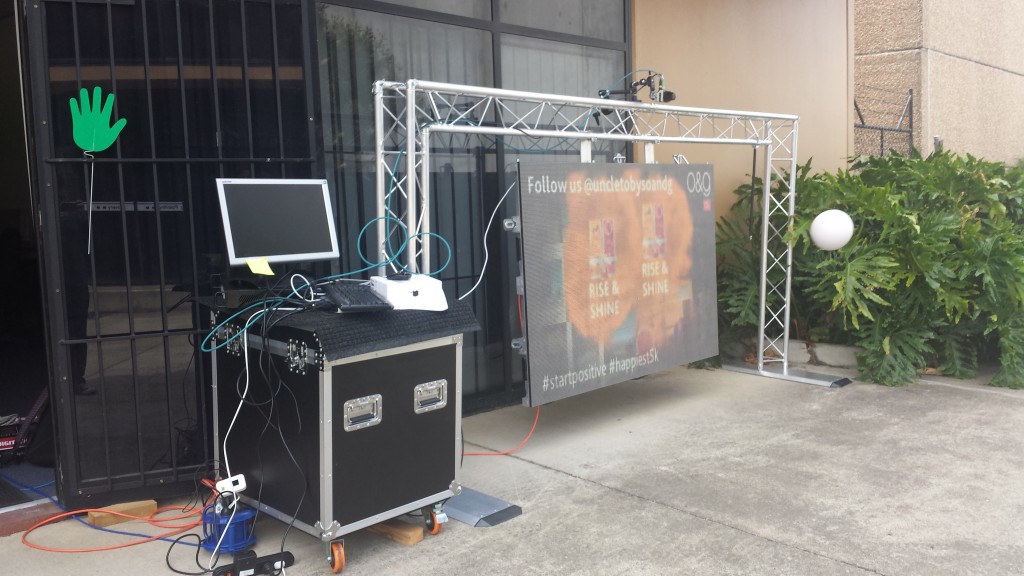 Application: Our super secret newest activation.
Pros: As far as vision sensors come, they are reliant on light waves, these are most resistant to direct sunlight. You can use them over longer ranges with varying frequencies.
Cons: $$$. For the cheaper models, you're looking at $3000, and they are also very proprietary so you'll need to develop your own packet sniffers to interact with them directly. You also need to pay special attention to the scan frequency (which is the rate at which the laser scans a designated area). If you're trying to measure a fast moving object, say a tennis ball, it becomes pretty ineffective unless you are at the higher frequencies which means bigger budgets.
4. Infrared cameras
Application: Human Tetris Game, S1T2 Christmas Party.
Pros: Readily available, heaps of existing libraries, not to mention cheap.
Cons: Useless in sunlight. Any direct sunlight will kill the infrared signals it's sending out.
5. Accelerometers
Application: Weetbix Kid's Triathlon Activation, Sydney Olympic Park.
Pros: Cheap as chips and accurate.
Cons: Be very aware of environmental conditions, such as wind and passers by, unforeseen variables will screw with its readings.
6. Oximeters
Application: Adobe Heart Tree, Central Park Sydney. 
Pros: Cheap and readily available.
Cons: Not exactly a con, you might have to find a good way to warm people's souls when they're freezing in the middle of winter.
This article is mainly focused at cheap readily available sensor equipment which people want to go out and play with. The biggest and only thing to improve is before your big moment, make sure you've tested it in a real environment. You don't know what will affect your work until you've tried!