A

l

z

h

e

i

m

e

r

'

s

A

ffi

n

i

t

y
Interactive light artwork explores the mystery of our memories.
Sydney, Australia

7

countries

4

2

5

k

initial visitors

Affinity was a sprawling light installation designed to explore the effects of Alzheimer's disease. The largest interactive artwork at Vivid Sydney, Affinity saw audiences explore an intricate web of interconnected orbs representing neurons in the brain. Stimulated by touch, these orbs triggered a striking display of light and sound that grew as more and more people interacted, or shrunk as they stopped engaging, in a powerful representation of Alzheimer's disease.
Raising awareness with interactivity
Concept
Alzheimer's disease affects over 50 million people around the world. It's a disease with a devastating impact, and one that reveals just how much of a mystery our brains – storehouses of the memories that define us – truly are. Inspired by some of our own team's personal experiences with Alzheimer's, we worked with Amigo and Amigo to create Affinity, an interactive artwork bringing the brain's dazzling complexity and connectivity to life.
Visualising Alzheimer's as an interactive artwork, Affinity aimed to raise much needed awareness of the disease and the charities fighting against it. A large-scale, tactile representation of the inner workings of the brain, the interactive installation demonstrated the importance of memories to who we are, and the devastating impact of losing those memories through Alzheimer's.
Thousands of Australians watch the people they love and respect fade away in front of their eyes, so we wanted to honour those lost memories.
Understanding through interaction
Interactivity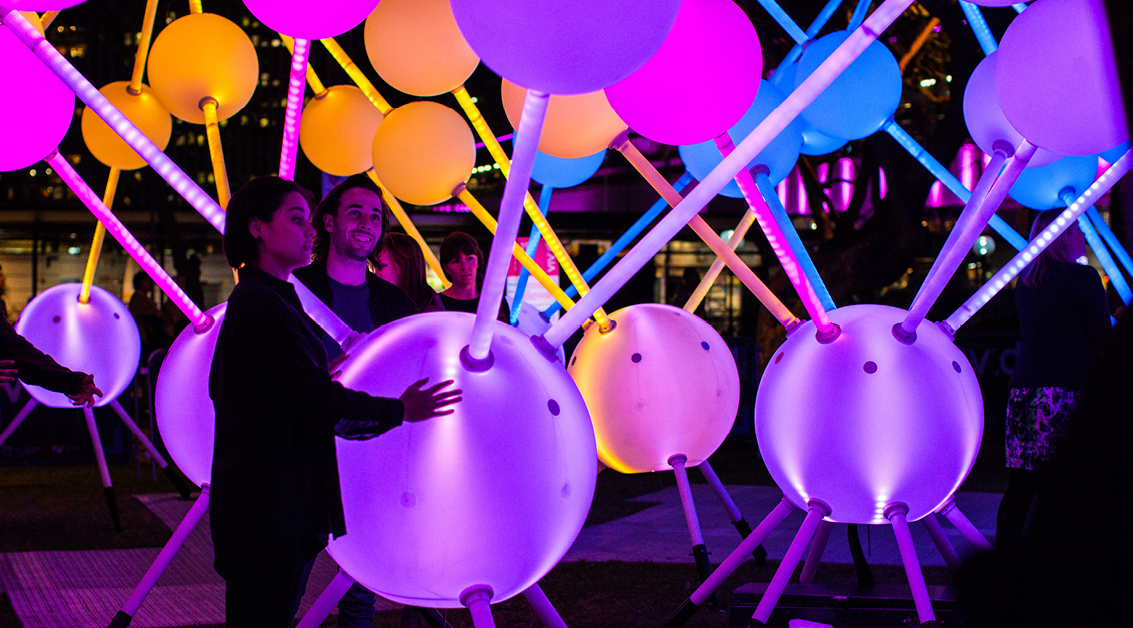 To experience Alzheimer's Affinity, visitors explored an intricate web of interconnected orbs representing neurons in the brain. Stimulated by touch, these creative technology orbs triggered a striking display of light and sound that brought the sculpture to life. The longer a visitor's touch, the further their colour would travel through the installation. As more and more visitors interacted, the light installation would become brighter and more vibrant in a powerful statement about shared memory.
An underlying metaphor
Light + Colour
Underneath this colourful interactivity, Affinity would transition throughout the night from an angelic white canvas to an ominous purple. While the initial white enabled a vivid display as audiences interacted, over time the slow creep towards purple restricted their ability to engage. Eventually, regardless of the audience's efforts, the light installation was overwhelmed by purple, erasing their interactions in a powerful testament to the irreversible damage caused by Alzheimer's.
Sharing personal stories
Audio Experience
We also added a gentle soundscape revealing the personal stories of people impacted by dementia as another creative technology element of the light installation. As audiences sent beams of colour back and forth throughout the interactive artwork, this audio experience enhanced the spectacle of the sculpture, grounding visitors in the very real impact of Alzheimer's while highlighting the importance of shared memories to who we are.
Immersive, tactile experience
Physical Build
For Alzheimer's Affinity to be successful, it was important that audiences felt truly immersed in the experience. We wanted visitors to feel as if they'd entered a huge world of bright neurons and firing synapses inside the human brain. After experimenting with a number of different geometries, we settled on a 13m x 13m x 3.5m web of 60 tactile, interconnected orbs.
These orbs were lit by 400m of LED strip light able to produce up to 56 different colours when touched. This tactile experience – which triggered both eruptions of colour and the gentle release of real memories – was facilitated by 114 capacitive input sensors. The sheer scale of interaction here was vital. It allowed us to not only create a highly social creative technology experience, but also to clearly demonstrate the importance of social interaction for Alzheimer sufferers.
Reconfigurable, modular design
Sustainability
With a 10 year – or 25,000 hours – lifespan, Alzheimer's Affinity was designed to be reused and repurposed for audiences around the world. Developed as a modular system, the light installation is sturdy enough to withstand wind and rain, while flexible enough to be reprogrammed as needed. Though resembling a landmark in size, the sculpture's sixty neurons, supporting legs, and network of creative technology are reconfigurable depending on the purpose and capacity of each exhibition location.
A worldwide experience of memory
Results
Alzheimer's Affinity was the largest interactive artwork at Vivid Sydney in 2015, visited by over 424,270 people for an average of eleven minutes throughout the festival, making it one of the festival's most popular interactive sculptures to date. Since then, the light installation has been publically installed around the world across Australia, New Zealand, Singapore, China, Israel, Columbia and the UK.
During its initial installation, Affinity garnered over 80,000 impressions on Facebook and more than 4,000 photos shared on Instagram. The creative technology experience also featured in various news and media publications such as Daily Telegraph, The Sydney Morning Herald, ABC News, Inside Out, ARN, NZ Herald, Dementia Australia, Channel 9, Campaign Brief and B&T.
Stay in the loop
Subscribe to our newsletter to receive updates and insights about Alzheimer's Affinity and other S1T2 projects.