T

Y

A

M

A

E

x

h

i

b

i

t

i

o

n

M

e

l

b

o

u

r

n

e
Multisensory experience reveals new perspectives through interactive story.
Melbourne Museum

1

0

unique environments

2

5

-

4

0

minute experience

TYAMA: A deeper sense of knowing is an interactive journey into Victoria's vibrant nocturnal world, using the senses of the animals we share it with. Created in partnership with Museums Victoria and inspired by First Peoples storytelling, the immersive experience invites audiences to play, connect and discover the magic of the museum's collection through physical and digital worlds. With stunning immersive projections, tactile environment design, and beautiful soundscapes, the TYAMA exhibition is an unmissable interactive museum experience that explores what it is to know with not just our minds, but all of our senses.
Innovating on the museum experience
The Brief
The brief for this project was particularly exciting for us. It represented an opportunity for our team to tell important stories and bring their meaning to life, all while working with a cultural institution we've grown up with. Better still, Melbourne Museum had the ambition to create an experience that didn't fit neatly into traditional expectations.
TYAMA Melbourne would not be an artwork, a scientific seminar, a museum display. It would be all of these things and more: an industry-leading experience that harnesses the power of the physical and the emerging magic of the digital. A chance to not only imagine the museum of the future, but invite audiences to experience it.
Inspired by the oldest storytellers
Story
Inspired by the sacred clan stories of Gunditjmara women, the TYAMA interactive exhibition invites visitors into a multisensory world of story. Here they have the chance to fly through pheromones to pollinate the sky, awaken the sea with their kin, and see in the dark through sound. Experiencing the world anew, visitors to the immersive experience will discover that all our stories, no matter how unimportant or unremarkable they may seem, have the power to shape our world in wondrous ways.
Embodying different perspectives
Concept
We wanted the TYAMA exhibition to be an experience of empowerment; one where visitors would explore new senses and perspectives to gain not only understanding but transformation. Traversing imaginative, immersive and interactive worlds, visitors experiment with different ways of perceiving the world around them. In these worlds of immersive exhibition, which merge the physical and the digital, the real and the abstract, visitors find a framework to engage with both the scientific methodology of the museum and First People's philosophical ways of being.
Stunning worlds of immersive experience
Immersion
Entering TYAMA at Melbourne Museum, visitors find themselves surrounded by immersive environments. Collaborating with Creative Director Mike Daly, the worlds we crafted have a tactile base, with physical architecture giving each space a visceral shape and tone. Meanwhile, the all-encompassing projections laid onto these structures are dynamic and reactive, changing colour, luminosity, clarity and more as visitors move and interact with the space. In this way we give visitors to the Melbourne Museum interactive exhibition the sense that this world – and therefore their own – exists without them while also being enhanced by them.
An embodied, interactive exhibition
Interactivity
Throughout the TYAMA Melbourne exhibition, spatial tracking and sound detection are the cornerstone mechanics for engagement. To bring these mechanics to life we worked alongside AX Interactive, adopting an iterative process to develop intuitive and organic forms of interaction that come naturally to our visitors. This approach to interactive experience design allowed the environment to react not only to audience interaction, but also their very presence in the space. 
The interactions throughout the TYAMA Melbourne Museum immersive experience are playful and revealing, designed to be delightful in their simplicity while deep in their significance. As visitors traverse immersive landscapes, they are given superhuman powers to shape the world that surrounds them. As they continue through their interactive museum journey, they find that the story they are experiencing is not one sided; that they have the power to become an integral part of the story.
Balancing honest realism + painterly abstraction
Art Direction
Our art direction was inspired by the duality of the TYAMA Melbourne Museum experience: the coming together of scientific and First People's epistemologies. The idea was to weave together realism and abstraction into an art style that embodied the relationship between ways of seeing. Realism found its place in anatomically correct proportions, colours and movements. Meanwhile, gestural abstraction was used to ignite imaginations and invite visitors to see the world differently.
Throughout the Melbourne TYAMA immersive exhibition, our art direction focused on capturing the inherent character of not only plants and animals, but the ephemera of the world in which they exist – the dance of refracted moonlight, the pulse of flowing water, the glow of biofluorescent beings. Depth, colour and texture created a world of magic, but a magic that is deeply grounded in real-life. A world that has and always will exist, but that can be richer for our presence in it.
Melbourne exhibition feels responsive + alive
Real-Time Projections
A key challenge and opportunity in developing the TYAMA exhibition was creating responsive experiences for groups in a public sphere. Our goal was to create environments that felt present and real – spaces that visitors would want to dive into and explore as part of an immersive learning experience. Bringing these immersive spaces to life required the accumulative power of Unreal Engine Ndisplay and real-time tracking.
We spent a lot of time fine-tuning the animation, lighting and atmospherics of natural phenomena depicted throughout the TYAMA Melbourne Museum multisensory experience. Whether it be the interaction of light rays streaming through water or how wind billows out as a moth flits past, every aspect of the environment would help audiences suspend disbelief and immerse themselves more fully in the interactive museum experience.
Beyond a flat projection environment
Physical Environment
Fostering a sense of exploration and discovery was vital to immersing our visitors in new perspectives throughout the TYAMA Melbourne experience. Digital imagery covers the walls, floors and even ceilings of spaces, with changes in projections constantly leading visitors to change their perspectives.
We wanted these spaces to be more than your average projection environment; to have depth and intrigue. Collaborating with the Melbourne Museum team we were able to craft playful spatial design and curated visitor flows, charting unique and unusual pathways through the world.
Evocative anatomical animations for an immersive experience
Animation
To bring the spirit of Sky, Sea and Earth Country to life, the TYAMA immersive experience used a range of animation techniques. We blended hand-drawn 2D techniques with 3D pre-rendered pipelines, all of which were enhanced by real-time physics and particle simulations. Creating creatures that could deliver player agency while accurately representing animal behaviour required collaboration with species experts across the Melbourne Museum team before replicating what we learnt  through sequenced animations and custom Niagra particle simulations.
For the climax of the immersive TYAMA exhibition we partnered with animation house Dirty Puppet to translate the real-time worlds into a 360 immersive cinematic experience. Displayed on two 26 meter by 8 meter display, this animation show brought to life the stories shared by our First Nations collaborators Yoolongteeyt Dr Vicki Couzens and Yaaran Couzens Bundle. We also continued to work with museum species experts to ensure that our 'oldest storytellers' – Woolok (Blue whale) and Koontapool (Southern Wright) – were represented realistic proportions and behaviours.
A composition constructed + deconstructed
Sound Design
We have long believed that sound is as crucial a creative element in a story as the visuals. For the Melbourne TYAMA interactive experience we were excited to bring this belief to life by partnering with sound studio KLANG and composer Brendan Woithe from very early in the creative process. Together we developed an aural body of work from which we could draw the elements needed to create different acoustic worlds that are as cyclical and interconnected as our story.
Thoughtful and full of soul, the soundscapes create beautiful atmospheres of darkness and light. Drawing from the natural rhythms and melodies of the world, we were able to create an emotive score that incorporates lines of animal song alongside bursts of instrumental.
Like a film soundtrack, the music was designed to bring together different emotional tones into a cohesive 'voice' of the TYAMA exhibition. Each piece in the collection could be constructed and deconstructed throughout the exhibition; a simple theme introduced in the Orientation Room returning as the main theme for the Whale Space.
Natural soundscapes play a crucial role in developing a sense of place, helping to situate audiences on Country. Real-world animal recordings and spoken voice bring depth to the aural experience. Visitors to Melbourne Museum are given the chance to hear as animals hear, while layers of human sound co-exist with animal recordings, breathing life into the First Nations perspective that humans are not separate from but one with nature.
Making meaning with collection objects
Museum Objects
In crafting the TYAMA Melbourne Museum exhibition, we had the chance to create a truly industry-leading piece of work: one that harnesses the power of the physical object and the magic of the digital environment. It can be all too easy to assume that physical objects have no place within an immersive environment. But this isn't the case. In the context of a museum exhibition, meaning-making is a central tenet of experience. Indeed, an unsatisfying search for meaning could be just as detrimental to our visitor experience as the potential of breaking immersion.
To realise this ambition, we integrated collection objects into each of our immersive spaces, accompanied by graphical illustrations and whispered narration to aid in meaning-making. In doing so, we were able to more fully realise the idea of 'embodied experience' – catering for both sensory and cerebral engagement. Indeed, we trust our visitors with the opportunity to seek, find and discuss layers of meaning within and throughout the interactive experience.
Partnerships of shared purpose
Collaboration
Internal collaboration amongst our team is inherent in all the work that we create. And over the years we have found that the best projects are often the ones that necessitate extensive collaboration outside of our studio. For the TYAMA immersive exhibition, we worked closely with a range of Melbourne Museum exhibition experts, from species specialists to experience architects, spatial experience design to implementation technicians.
Perhaps most exciting for us, however, was the chance to collaborate with First Peoples. Gaining insight into their perspectives and inspiration from their stories was fundamental to our creative journey. This collaboration allowed us to imbue the immersive museum experience with new perspectives to explore and deeper levels of meaning to uncover.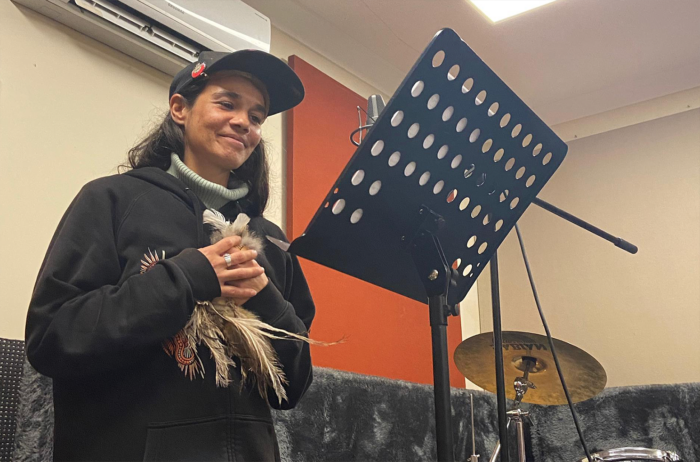 Imagining the future of interactive museums
Impact
At its core, TYAMA: A deeper sense of knowing is a living experiment into the untapped possibilities of future museum experiences. By igniting imagination with interaction and breathing life into these interactions with immersive environments, we were able to craft moments of connection and insight.
Harnessing the powers of immersion and interactivity, the TYAMA exhibition opens new pathways to engage and perspectives to inhabit; all to bring enhanced meaning to every visitor's experience.
Stay in the loop
Subscribe to our newsletter to receive updates and insights about TYAMA Exhibition Melbourne and other S1T2 projects.